When you order a sandbox from us, it arrives in a wooden container looking somewhat like the one below. Follow these easy steps to safely unpack your device.
Use screwdriver to dismount wall. There should be an indicator showing you where to start.
Unscrew walls one by one.
Unscrew wooden slats from the pallet.
Remove sand from the container.
Cut bonding stripes in the corners.
Carefully move the sandbox from the euro pallet. Do not grab the countertop! Use pickup points as shown below.
Wheels supplied in Standard model have brake mechanism (two wheels on the back side). Unlock it before moving the unit.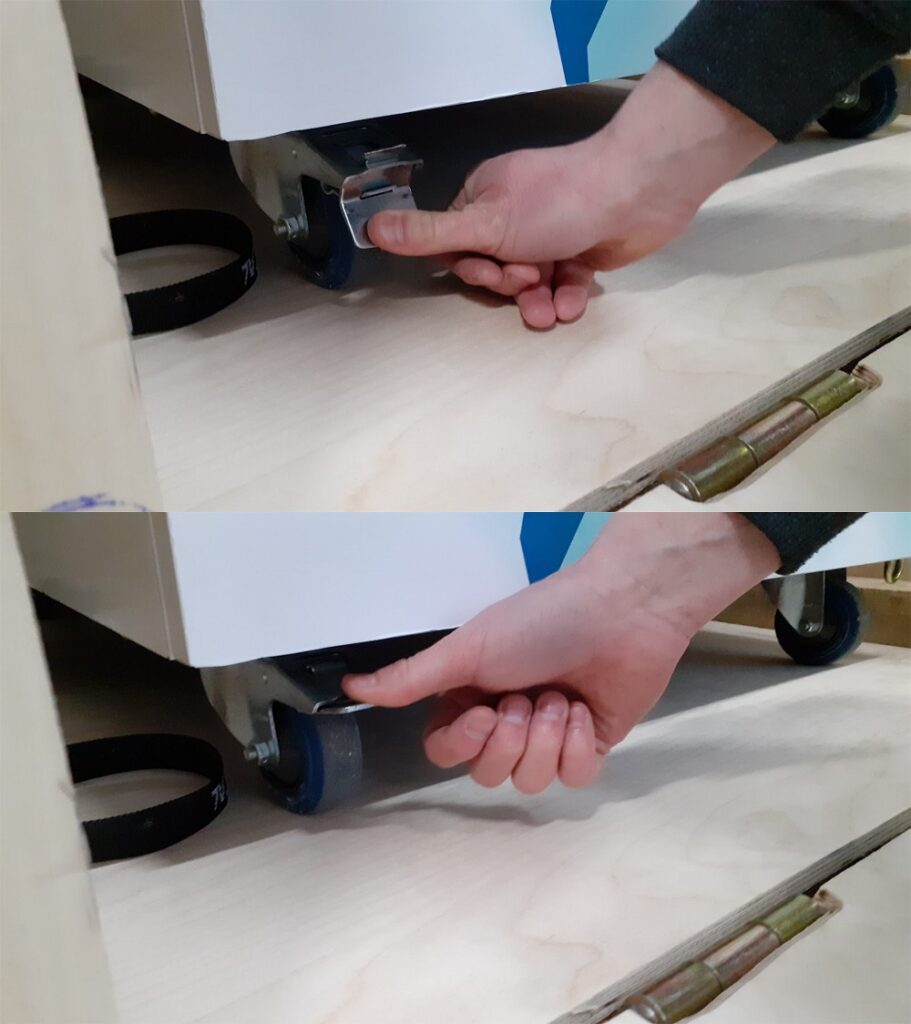 ---
Some models are supplied with a wooden plinth – a feature used to hide frame elements or wheels. These are Standard and both Large models. The plinth is packed separately for transport and needs to be mounted as the final step of installation.
Ensure that the unit is placed correctly – it won't be possible to move it, after the plinth elements are mounted. To do so, turn the front wheels inside under the construction, so the area under the front and side walls is clear. Make sure the rear wheels do not obstruct the space as well. Lock the rear wheels' brake mechanisms. After they are locked it won't be possible to turn them, so set the required position in advance.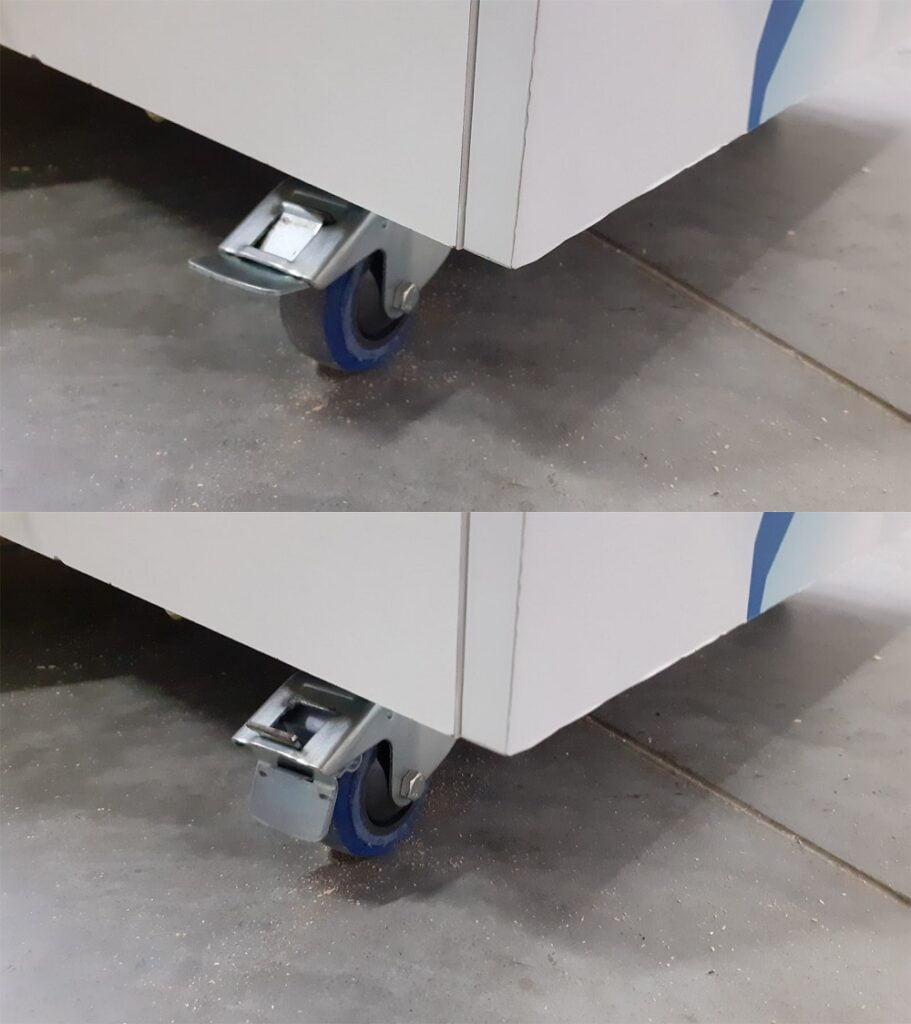 Prepare the plinth elements. Each element has a 'TOP' mark on the back side. This indicates the orientation it should be placed. The front (longest) panel has numbers marked at each short edge. They should be matched with numbers marked on the side (shorter) panels to find the correct arrangement.
Assembly procedure:
Start with the front panel. Position yourself in front of the unit and grab the panel from sides or underneath. Tilt the panel towards the unit.
With the panel still tilted, fit the 'TOP' edge in the space behind the front wall of the housing.
Slowly turn the panel to a vertical position. Make sure the 'TOP' edge is pressed upwards, to the construction.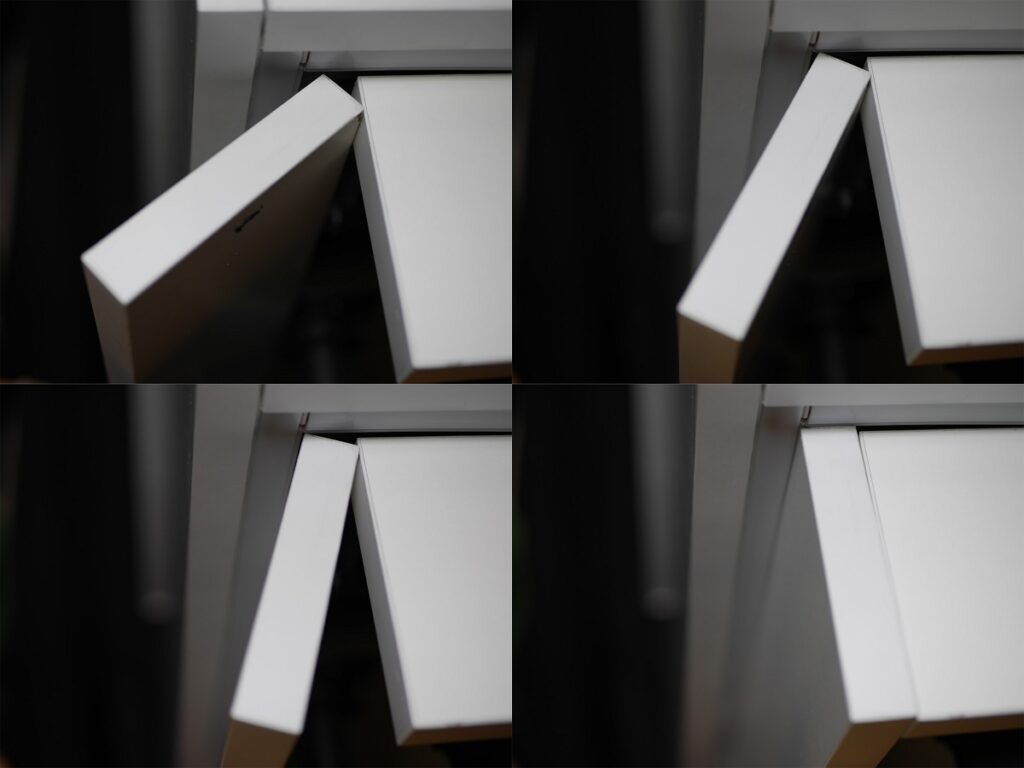 You will hear the mounting elements clicking in the correct position. If that doesn't happen, carefully repeat all steps.
Repeat the procedure for the side panels.